Today is really awesome I decided that we need double the inspiration, so here's another feature, and it's for OWL lovers (MEEEE!) It's a gorgeous American handmade shop with lots of adorable owls (I am dying to buy them all!), say hello to
WoodsyWools
!
1.Tell us a little bit about your shop; how did you start? How did you learn your craft? Why did you start? What do you sell?
WoodsyWools is my on-line collection of little hand knitted owls. Each owl is one of a kind and knit with lots of love. My shop was really born out of my love for giving handmade gifts to my loved ones. One year, I added a little owl to all of my Christmas gifts, and everyone loved them! So, these little hoots became my favorite way to add some cheer to someone's day. My knitting craft all began a few years ago when my grandmother taught me the 'basic' knitting stitch. From that point, I self-taught the rest. After a good year of knitting too many 'baby' blankets for my sweet tuxedo kitty, I came up with my owls. I don't knit from patterns, so there was a little trial and error before I produced an owl that resembled what I was picturing in my mind. Knitting free-hand without patterns has really allowed more room for the creative process. I also hope that this technique keeps my hoots all looking unique! I always attached the heart buttons and called them 'love owls' because what I wanted most was for the recipient to feel loved! It was really the positive
response from family and friends that led me to open my shop on Etsy. Over the years my owls have evolved, and I get so much creative satisfaction in this process. I love to come up with new ideas for them.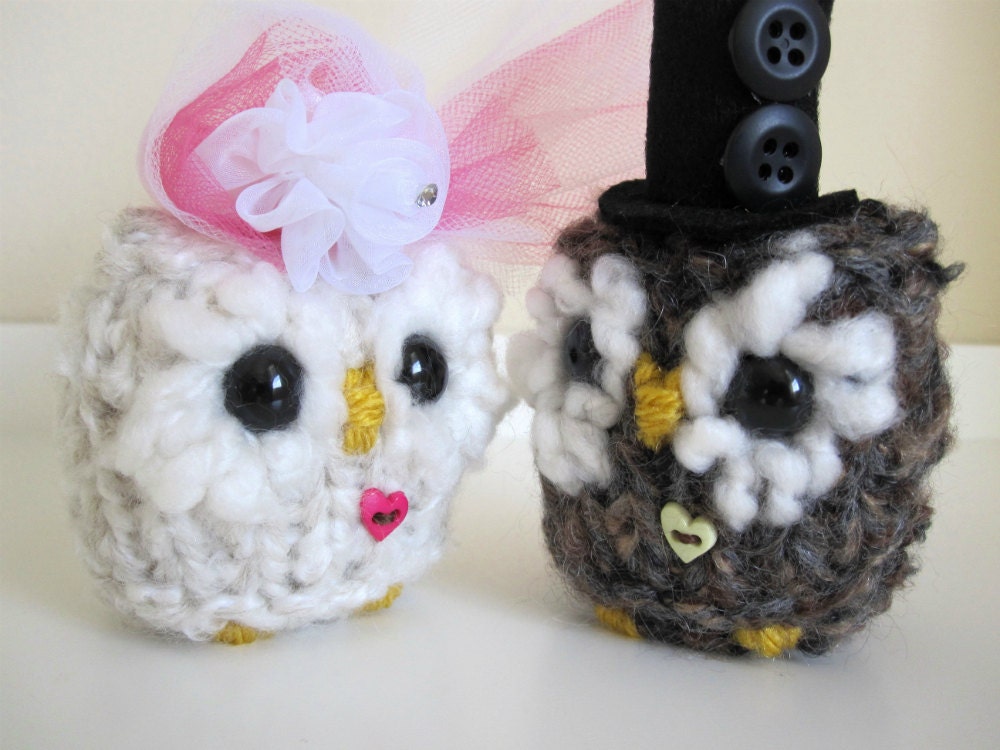 find this couple here
2. What are the main uses for your gorgeous owls?
These little hoots are so happy to nestle on book shelves, mantels, bedside tables, anywhere one might desire. They are so warm and cozy to hold and make a perfect little gift of love…a great way to warm up someone's day!
3. What inspires you? Is there a special place that you like to go to get inspired? What is it? Any favorite galleries or exhibits that inspire you?
I am highly inspired in general by nature and my love for animals. A walk outside, listening to the birds is a wonderful way for me to clear my mind and get the creative juices flowing! Sometimes new ideas will pop up late in the night, just before I nod off to sleep. I am also simply inspired by my collection of yarns and buttons. I find that just looking through my supplies, I come up with new ideas and yarn combinations.
4. Who is the biggest supporter of your craft/Art & business?
My friends and family are a huge support. They are always encouraging me to find new ways to 'grow' my little business.
5. Are you part of a crafting group?
I am not part of a crafting group at this time. I do envision this in my future someday when I have more free time to devote.
6. What do you enjoy making the most?
My little owls. I get so much satisfaction from start to finish with each one. I really love to make them!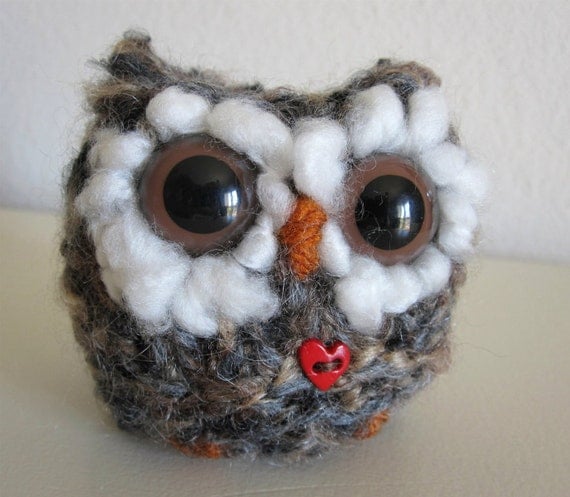 how can you resist these eyes! find it here
7. What do you like to do for fun?
I love to walk outside, and observe the beauty in nature. I also enjoy painting, cooking, and getting together for coffee or dinner with friends and family as often as possible. Of course I find great enjoyment in my craft!
8. Do you have a crafty room?
No I don't have a room. However, my dining room table has been fully devoted to my craft for about a year now. Dinners are eaten at my coffee table in my living room! I sit on a giant yoga ball, and I have even moved some storage pieces into my dining room to accommodate my craft. So perhaps this IS my crafty room after all. I would love to have a room with more space. More work tables and storage. A place to really let the 'mess' of creativity go. I am always tidying up my dining table!
9. How do you find selling offline? How is it in comparison with selling online?
I don't have a lot of experience selling offline, other than a couple B&M shops that I wholesale to. I think being able to sell online is wonderful. I mostly love the fact that I have a world-wide audience to sell to. I have shipped my little owls all over the world!
10. Do you have any tips for people who want to start making their hobby into their business?
Yes. If you have creative talent, and you find something that you like to produce, just go for it! It is so easy now to set up shop on the internet. In my opinion, Etsy is a great host website to get started. Just be aware that it does take time and work to run your business no matter what it is. And not everyone is an overnight or even an over many years success. I am still working my day job, but the bits of extra money I earn selling my owls is quite satisfying!
Make sure you checkout WoodsyWools shop for more gorgeous owls <3