Greetings Creative World!
Hope you all had a creative week! mine just went by SO fast, I can't even believe it is Friday! I still got many projects to do and work on :O too much work, so little time. Enough about me!
Today, I am presenting Alex's Canvas, a painter from Greece, who makes the cutest
personalised
canvasses. Over to Alex,,
1. Tell us a little bit about your shop; how did you start? How did you learn your craft? Why did you start? What do you sell?
I sell original paintings for the nursery, birth canvases and personalised /custom paintings for kids and grown-ups. I create my pieces the old-fashioned way: it's just me, my brushes and my paints from beginning to end (no print-on-canvas stuff). I've been drawing and painting ever since I can remember myself, so it's what comes natural to me! My mother is a self-taught artist and I used to watch her paint in our balcony when I was a kid. There's nothing more mesmerizing then colours being mixed in order to produce entirely new shades... And a rough sketch slowly taking an almost 3D shape in front of your eyes! People and animals were always my favourite subjects -I was known at my primary school for making portraits- though sometimes I would paint landscapes too.
I knew from very -very early on that I would paint my whole life, so it made sense that I would study fine art, rather than anything else. I trained in charcoal, oil and acrylic nudes and landscapes for a year, in an art school in Athens, and then I moved to Bristol, UK, where I studied for a BA degree in Fine Art. After I graduated and returned back home, though, the jobs awaiting for me had little to do with my studies. They offered wonderful experiences, however! So, fast forward almost a decade -during which I paint mainly for myself and few selected friends- I find myself married with a child, living in a farm (oh yes!), having just resigned from a kick-butt job as editor in Chief of a well-known magazine in the city.
Once I settled into motherhood, I start to feel restless, I turn our conservatory into a studio and begin to paint more regularly. And then, one day, a friend asks for a "birth certificate" canvas. A painting that would capture the name and birth stats of her daughter. That was the first one I ever made and from then on, Alex's Canvas took off! I set up a facebook page, opened a shop in Etsy, amongst wonderful artists and crafters, and have now regular sales (most of them off Etsy, as my shop there is quite new). I mostly make nursery paintings, personalised art for children and birth canvases of different sizes and shapes (my mini triangles are a big hit!). However, I've also had customers commissioning other kinds of paintings from me, such as personalised home "signs" and fine art paintings with their own personalisation on. I absolutely love making all kinds of custom and personalised paintings, whether it's for little ones or grown ups. It's magical!
2. What inspires you? Is there a special place that you like to go to get inspired? What is it? Any favorite galleries or exhibits that inspire you?
Nature and everyday life provide a great deal of inspiration for me. My studio is actually a tiny conservatory with glass all around, allowing me to look at endless green fields (and -occasionally- sheep!) while I paint! We have hedgehogs and turtles around, as well as a family of owls which I like to spy on in the evenings. Animals at the local zoo are also a great inspiration. So is travelling: new places, new colours and change of scenery often give birth to a new idea for a theme or colour combination. Last but not least, there's the museums and galleries, the big ones around the world with artwork you are in awe of, but also those cute little galleries in some remote Greek island – a small haven of wonderful art when you least expect it! If I have to be totally honest, though, life itself is where I get the biggest part of my inspiration from. One of my little boy's toys. A phrase in one of his storybooks. A cute photograph of a baby seal in a magazine. Anything that sticks to my mind and makes me obsess about it, until I take my brushes and paint it on a canvas!
3. Who is the biggest supporter of your craft/Art & business?
I have to say my husband (without his support and understanding it would be impossible to find any time to paint), my mother (who is my biggest fan) and my 2 year old son, who gets totally excited when he sees my canvases and has a habit of blowing kisses to his favourite ones!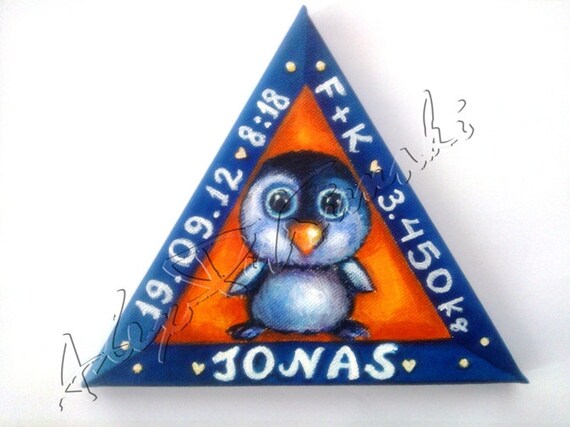 How cute is this! Find item here
4. Are you part of a crafting group?
I recently became part of Etsy, an amazing global community of artists whose creativity can blow your mind! And I'm really happy to be a small part of it, and of some great teams on there!
5. What do you enjoy making the most?
Hmm... I feel like I have to choose between my "children" and I can't really answer that! I love painting for small babies that just came into this world, but painting for older kids and grown-ups is great fun too! Theme-wise, I go through periods of falling in love with a specific kind of animal, colour or motif, till a new one sweeps me off my feet! Currently I'm loving woodland creatures, owls, foxes, hedgehogs, the lot, but I'm also preparing a new "line" of some other pretty cute creatures that children love. Stay tuned, they are coming very soon!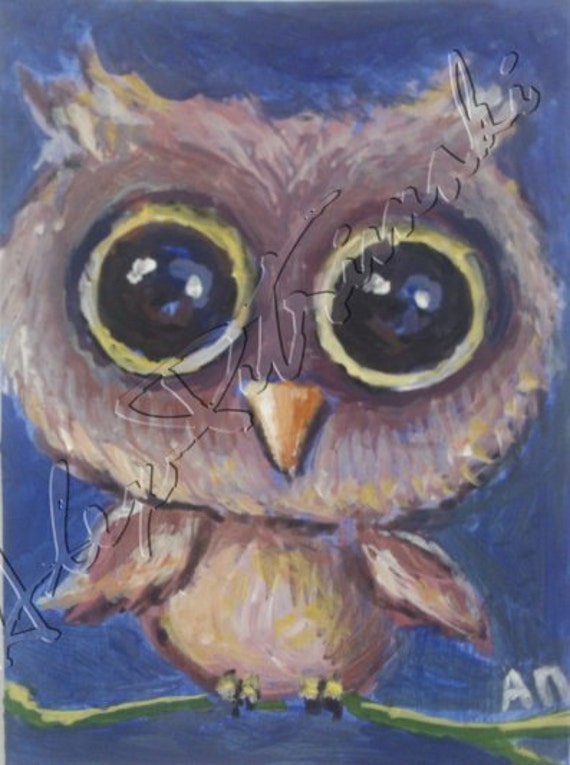 I LOVE the big eyes <3 find item here
6. What do you like to do for fun?
Painting is what I do for fun- I'm just incredibly lucky and thankful that I get paid for it! And, of course, spending time with my family, whenever that is possible. There's probably nothing better in this world than the three of us hanging out, at home or at the seaside. I also tend to spend quite a bit of time on the internet, keeping in touch with the world "out" there (you know, the one away from diapers, green fields and the sound of sea). Oh, and I love watching Modern Family. There, I said it!
7. Do you have a crafty room?
Yes. It's a very tiny space at the moment, but does the trick for now. I love the view so I can't complain.
8. Do you have any tips for people who want to start making their hobby into their business?
Oh, I don't think I'm the one to give advice as it's only just recently that I turned my passion into my business. The only thing I can think of is a big cliché, but obviously there is a good reason it became one: Believe in what you do. It's very easy to start doubting yourself -especially at the beginning- but it's so important that you don't give up. If you don't believe in yourself, who's going to do it for you?
Oh, and if you work from home (like lots of hobbyists -turned- into- business people do), try to establish a clear schedule of working times. Otherwise you may end up working 24/7 (neglecting all other areas in your life) or you could end up slacking, as there is no boss to crack the whip.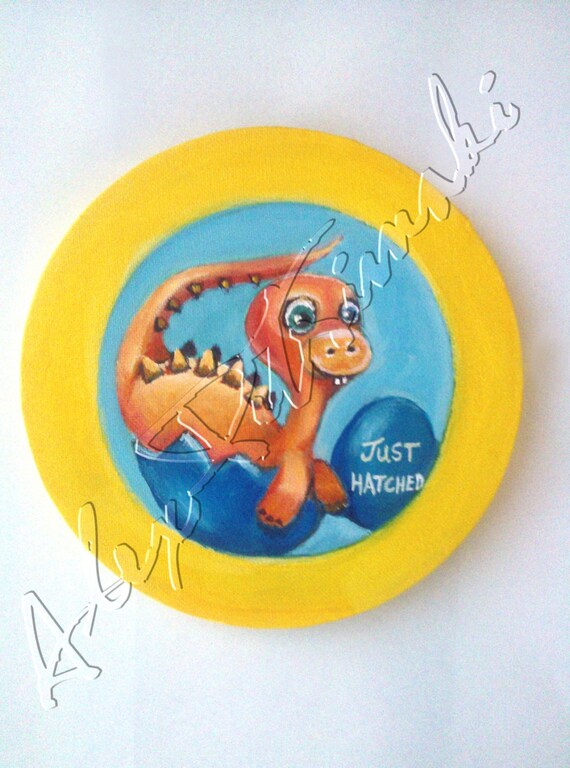 Make sure to checkout Alex's Etsy shop and FB page for more awesome paintings!