Hello Everyone! it's finally Friday, and today, I have an awesome artist to present, who is full of colour and great energy. Emma is a knitter,
jewellery
maker, cross stitcher and MORE! She is a living example of unlimited

possibilities

. You don't only have to be good at one thing to stand out and start a shop, you can try everything! She is the owner and maker of The Candy Tree 125.
Hi Emma!
1. I see a lovely mix of different types of products in your shop, tell us more about it, and tell us how your shop started! how did you start? How did you learn your craft? Why did you start? What do you sell?
I bought a pair of handmade earrings online many years ago and decided to give it a go myself. From there I taught myself how to make earrings, bracelets and necklaces and especially loved to use glass beads and freshwater blister pearls for their vibrant colours. I created my own website to try to sell my designs, but with little knowledge of marketing and SEO, I didn't receive a lot of traffic. However a couple of years later I discovered Etsy and decided to set up shop. It made sense to use an established site which was already bringing in a lot of traffic – all I had to do was learn to market myself!
I've always had a crafty nature and decided I also wanted to give knitting a go. With the help of my mum I started to knit scarves and as time went on the patterns I used became more complex as I built up my skills.
My next craft after that was cross stitch and I found it very therapeutic to stitch up designs I'd bought – the natural next step for me was to create my own patterns to stitch and sell. I have also combined two crafts to create cross stitch earrings!
I also dabbled with patchwork and created a limited range of mini patchwork cushions which are perfect for brightening up the room or even sitting in the back seat of the car!
2. What inspires you? Is there a special place that you like to go to get inspired? What is it? Any favorite galleries or exhibits that inspire you?
I am inspired by colour and nature – especially trees. I like to go walking through the countryside and this often inspires me to try a certain colour of yarn depending on the season. I also gain inspiration from crafty magazines and blogs.
3. Who is the biggest supporter of your craft/Art & business?
Supporter may be the wrong word but my partner certainly puts up with my craft! We currently rent a small bungalow and my various crafts require a lot of materials – so I have taken over more than my fair share of the space! Saying that, he always congratulates me when I make a sale
J
4. Are you part of a crafting group?
I'm not part of a crafting group – working full time and then running my Etsy shop in the evenings and weekends (which feels like another full time job!) means that even if there was a group in my area, I would struggle to make time.
However, having my shop on Etsy feels like I'm part of a crafting group as there is a wonderful community feel and plenty of help and support whenever I need it.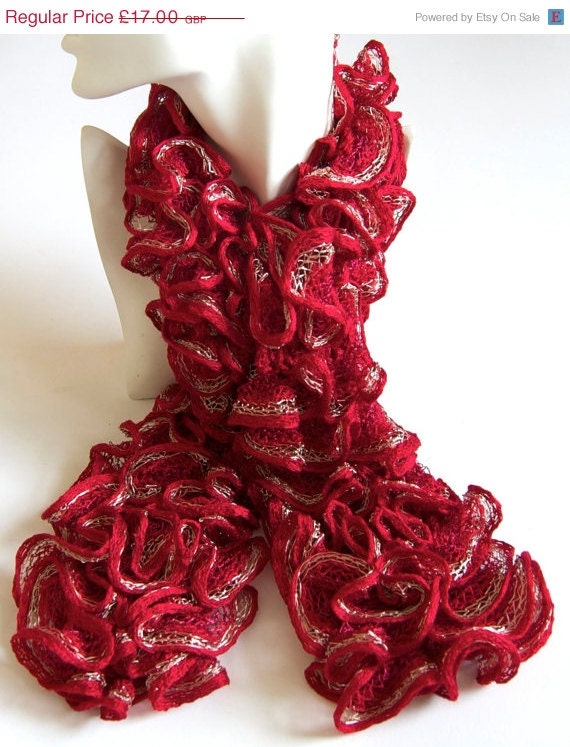 this item is on sale here
5. What do you enjoy making the most? & what is your best seller?
As a multicrafter I go through phases of what I enjoy making the most at any one time, but at the moment I love knitting – especially cabled scarves which involve a more complex pattern. My best seller is my Green Ruffle Scarf- probably because it's a wonderful colour and full of layered texture.
6. What is the story behind your name choice?
I studied illustration at college and created a drawing of a tree trunk with a lollipop on top, and named it The Candy Tree. When I started crafting, this name seemed to tie in well with my love of colour and nature, and my beaded jewellery seemed to look "good enough to eat" – so it all seemed to fit!
7. What do you like to do for fun?
I love going on walks in the countryside and sitting in a nice bar with friends and a big glass of wine! Other than that, crafting is what I do for fun – even a lazy night in front of the TV will be spent knitting or cross stitching.
8. Do you have a crafty room?
Unfortunately not at the moment, however one day I would love to have a spare room dedicated to my crafts. For one thing I would be able to keep all of my materials contained in the one place! My ideal crafty room would be light, airy, colourful and comfy. I would love to have a big bookcase full of materials and pin boards filled with inspiration.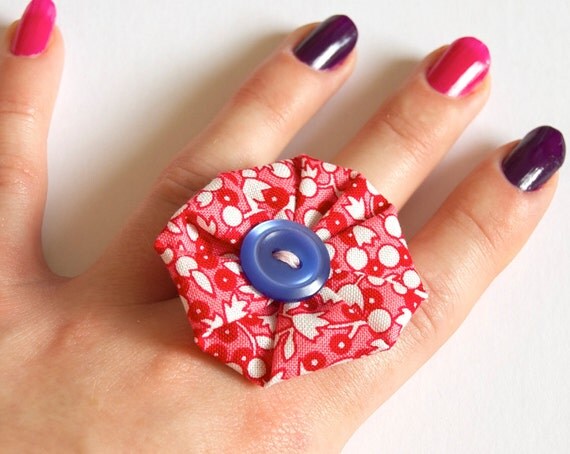 find this fabric ring here
9. How do you find selling offline? How is it in comparison with selling online?
My friends, family and colleagues keep up with my shop through Facebook and I sometimes send a cheeky email round the office on the run up to Christmas – this gave me a lot of sales and success last year. Saying that, I'm not very good at promoting myself in person and think I prefer selling online as I can hide behind my computer!
10. Do you have any tips for people who want to start making their hobby into their business?
When I first opened my Etsy shop I only listed a handful of things to see if anything would sell, before making a heavier financial commitment. Although it can be a good idea to test the waters and take time to set up your shop, take good photos and get your policies in order, I didn't see much success until I started filling up my shop. The more listings you have – the more you will be seen. It will take time, effort and money to get your business off the ground – but it is definitely worth it in the end!
Make sure you follow Emma and her shop The Candy Tree, for more fantastic designs, and colourful gifts:
Website/Blog
Etsy shop
Facebook
Twitter