Yay Friday Feature time again! and this week I have one adorable shop to share with you. It's full of really cute handmade dolls, and an even cutter start up story. It is a mix of imagination, childhood memory and determination. read on!
Tell us a little bit about your shop, how did you start? How did you learn your craft? Why did you start? What do you sell?
Well first of all, I want to say thank you for this interview! What a great opportunity! I'm very appreciative.
The seeds for the idea of GoHeyJudy were planted around 2004 or so when my eldest daughter came home from preschool with the most adorable drawing she had done during class that day. Now granted I'm "the mommy" so my opinion is rather biased, but there was something about this little picture that ignited a spark I couldn't quite - at the time - put my finger on. It was this little pink girl with no body, a rather large pointy head, and the most awkward yet endearing smile. To top it off, she had these large hands with large fingertips dotted in pink polka dots. It was immediately drawn to it so I placed it in a dresser drawer of mine to be marvelled at from time to time all the why saying to myself, "This is something, but what?" I just didn't know.
If I may backtrack, when I was a small child my father would, at bedtime, orate "The Judy Stories" to me which were about a girl who got into the most adventurous yet believable antics. They were of his own creation - off the top of his head - and absolutely hilarious. I would beg for them nightly until he relented but found myself visiting "the potty" on numerous occasions so as not to dampen the pyjamas. This
would, of course, wind me up so that bedtime was always far too late much to my mother's chagrin as we often ran on the Naval Clock. I'm so glad
she
relented nightly as he passed suddenly when I was ten.
I only wish he had taken the time to write those stories down.
One day a I pulled out that little drawing my daughter had done and the idea hit me like a velvet GloveSmack. I said, "Hey! This is JUDY!!!" I realized at that point that this was the character I had envisioned nightly as a child and set to work on making her into a doll although I hedged. I originally started with a very VERY big doll which was, for some reason, almost life-sized. I also reached out to numerous artisans as well as manufacturers in order to have the doll produced for a mass market. Nothing worked. Nothing seemed to fit. The prototypes were abysmal as my ideas simply weren't translating to a final product. In the meantime, I refused to be deterred and went about the legal process of forming a business and establishing copyrights and trademarks. It's now around 2009 when my landlady, a fine artist proper, said to me, "No. See? This is small. Look at the picture. She's small." At that point the lightbulb went off and realized she was exactly right and that if I was going to see this project through the way it needed to be done, I would simply have to do it myself so I re-learned how to
sew along with re-learning how to embroider and set to work on creating her from my kitchen table. As someone said to me from the beginning, "She's not for everybody, now is she?" At first I was a little disheartened, but took that as my cue to run with something different. If I was going to do this, why on earth would I want to copy what's already been done?
This also took some time as I wanted to ensure I would be putting forth a quality product. Besides that I just couldn't get those limbs right! I finally came up with something I'm more than pleased with, is definitely different and quirky which is what I wanted, and then set out to sell her to Brick & Mortars, but by that time it was severe unemployment and those B&M's closing by the dozens. One of my lovely local shop owners suggested I try Etsy which I'd never heard of, went home, GoogleStalked it, and jumped right in. That's how it all began! I decided at that point to simply wing it for lack of a better term. Everything at that point fell right into place from the name, to the shop name, to the hats, and the product titles along with Judy's name, calling them "Little Charmers" and her tag line of "She's all you imagine."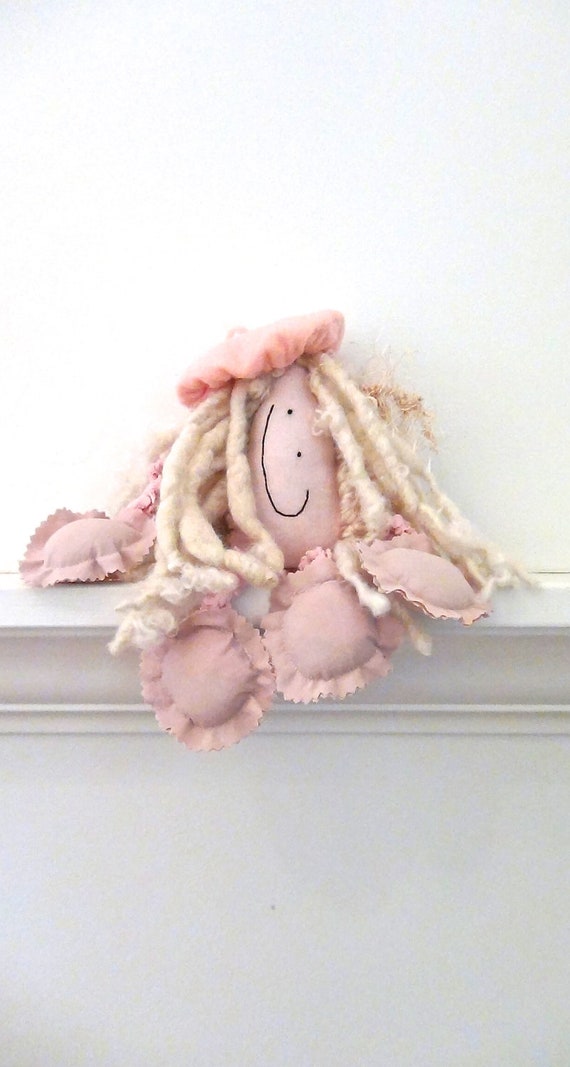 I LOVE this one with the spun hair, how unique, find it here
What inspires you? Is there a special place the you like to go to get inspired? What is it? Any favorite galleries or exhibits that inspire you?
My children are my biggest inspiration.They're amazing with their creativity and energy and can
always
be counted on to keep me on path when I veer off-track toward the more mainstream which isn't what Hey, Judy! is about. My girls are at two ends of the spectrum, however, so it's a wonderful balance between the three of us. My eldest daughter is, after all, the original creator of the image so I take what she says to heart. My
blog
is another one of my biggest inspirations or rather my readers. They're a daily jolt of humor of honesty, and I have had the distinct privilege of getting to know them. They're an amazing group of people and are my
motivation to jump out of bed and get the daily post up so that it's readable for those overseas. I love hearing they look forward to the three minute morning with their first cup of coffee. It doesn't get any better than that. It motivates me to improve daily on all levels. Not just for my product. They're also my best customers. I am so appreciative of them. Words cannot express just how much. They're my biggest supporters. I can't imagine life prior to them all anymore. What started off as a whim with the blog in 2011 has taken on a life of it's own. I love it.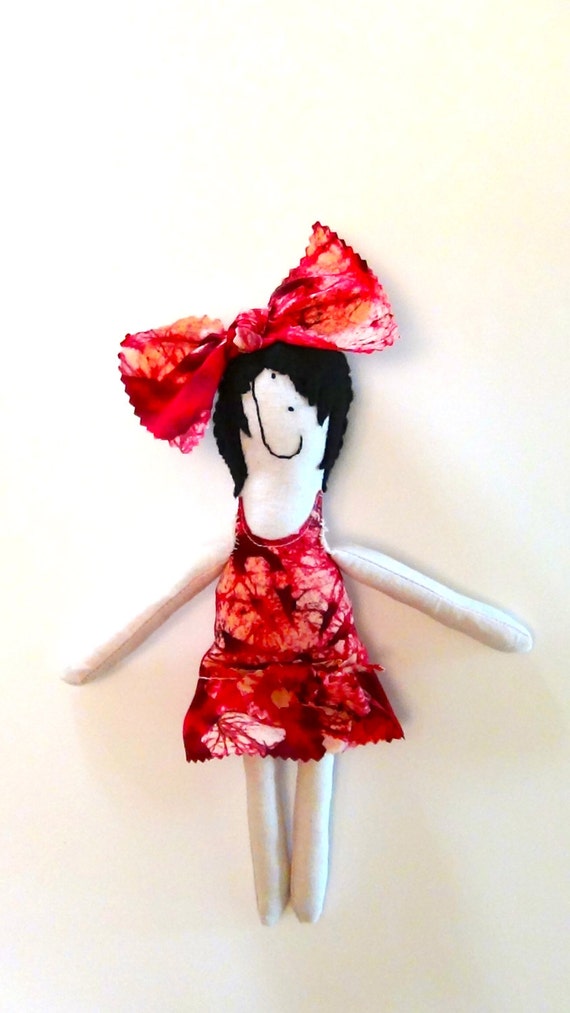 find this lovely doll here
Are you part of a crafting group?
I'm not as I've never considered myself a crafter or artist as they say. My prior career was refurbishing houses and did that for 20 years before abruptly leaving the market on purpose at the beginning of 2006 to which people
thought I was a little nuts. I doubt I would have much to contribute in a crafting group format. I'm also more of an introvert with very limited time so socializing is just not on my radar screen at the moment. Unfortunately.
What do you enjoy making the most?
Anything crazy or offbeat. The more conceptual the better as far as I'm concerned. LOL. I especially enjoy throwing literary references into the titles and descriptions which has a propensity to harm me as far as the search
engines are concerned, but I sure do have fun with it. It makes my day when I get an email or a tweet or other commentary saying how much someone has just ROFL'd reading and/or getting it. it's the best feeling. Besides a sale.
My two favorite "Little Charmers" are probably "Back In Seattle Again" along with "Ariel Maneuvers" which I'm sold out of for now. I need to get working on that as I've redesigned her.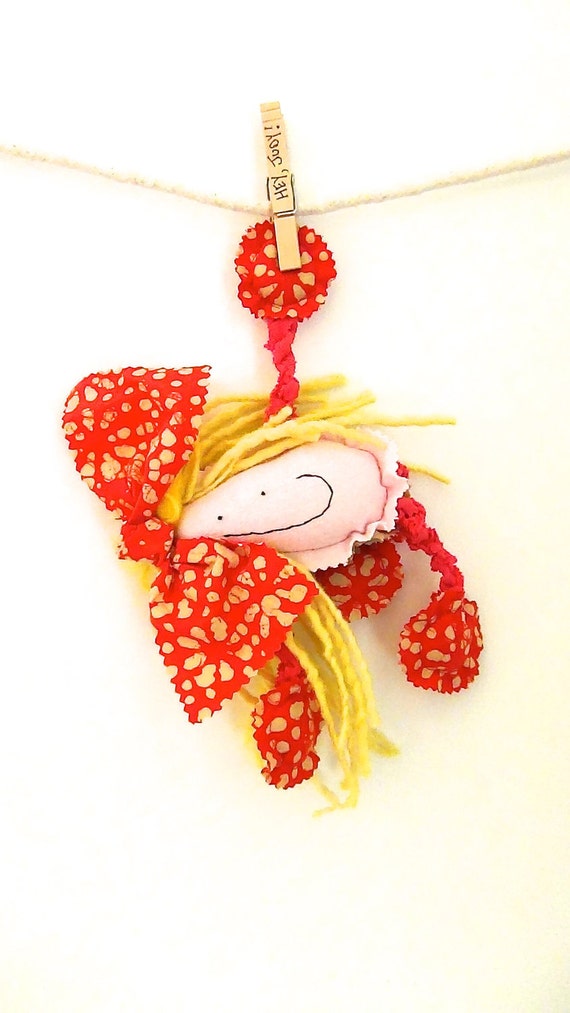 find this fun and upbeat doll here
What do you do for fun?
There just aren't enough hours in the day - or funds - for the amount of fun I want to have such as travel to all the ancient sites I've only read about. I'll start with that! I'm a prolific reader of all things ranging from Ancient Alien theory and ancient history, to politics and finance. I run the gamut. Creating my dolls and the
blog
are huge sources of fun for me, but any spare chance I have I sit down with my bass guitars or the keyboards and will get lost in music for sometimes twelve hours at a time. I'm looking forward to getting into housing again but am waiting until the time is right. I just finished the first Judy Story. That was fun to write. It's off to the editor tomorrow.
Do you have a crafty room?
I don't even have a music room right now as we've just moved into temporary digs. We're awfully cramped, but if I had a studio, it would look like this. Definitely.
the perfect studio vision
Do you have any tips for people who want to start making their hobby into their business?
I'm not sure if I have any tried and true tips for newbies as I consider myself one, but I will say that the most valuable lesson I've ever learned in any business venture is to listen to and only to the people who are a success and whose lives and success you wish to emulate in theory. I stick to this and value it mightily as everything else would be hot air. It's one thing to learn from someone who has failed at something - haven't we all! - and to learn from their and our own mistakes, but we often run the risk of taking these mistakes to heart and convincing ourselves through negative talk that we're practically guaranteed to fail especially if you're trying to do something a little different. I enjoy constructive and informative criticism such as my learning Hey, Judy! needed to be small and I was on the wrong track. It's another when you try to emulate what others have done or are doing. That's a surefire failure in my humble opinion.
I would also say that moving from a career in housing to selling a retail product online has been one heck of a learning curve. It's been both challenging and enlightening. I'm so glad I jumped in as there are things I've learned I would have never even considered had I not done this such as changing the hair for Hey, Judy. I didn't know, for example, that people actually could spin their own yarn at home which I found amazing! Had I not jumped in I would have never discovered that and adapted the dolls. I think determination in anything is key along with a willingness to stick to your guns - along with smarts and wisdom to know what's not working - and go for it but realize you're going to have to put in the hours. I can't remember the last time I slept. There just isn't enough time to balance all I want to accomplish so I'll just have to grow at a sensible and conservative pace until I can. At times I think I should have studied the market a little more before opening the Etsy shop and learned more about SEO and photography prior to that, but in retrospect sometimes I think perhaps not. It's a personality quirk of mine. No one way works for everybody. Microsoft isn't Apple and vice versa. You just have to find that niche, and do what you love. If you don't love it, don't bother doing it. It's the best way to stay on track with anything you ever want to tackle in life. It really is that simple. That was the hardest lesson to learn but the well worth it.
wow,, I really enjoyed this feature! and the tips are very valuable,, I hope it inspired you all and fuelled your creativity for the weekend! :)
Keep in touch with GoHeyJudy through her links!