Good morning everyone and happy Friday! wow this past week was so short! I wish all weeks had a four day weekend! :D Hope everyone is ready to rock this coming weekend.
Today, I will present a hair accessories designer, Tania Prosser, who uses upcycled fabrics to create her lovely pieces. So not only to beautify the hair, but to keep this Earth lovely too. She is the brains and the hands behind
Fairy Shadow
. She also has a very touching story that encouraged her to open her shop, read on and find out!
Hi Tania
1. Tell us a little bit about your shop; how did you start? How did you learn your craft? Why did you start? What do you sell?

I have been a handworker since my teens, first making quilts inspired by my great grandmother's work and then making waldorf inspired natural fiber dolls that I sold through a small mail order
catalog business with my sister. I sell a line of floral hair accessories that are made from recycled t-shirts made in bright cheery colors as well as a few dolls also using upcycled fabric. In addition to
Fairy Shadow, I wholesale my work to small boutiques and do local craft shows.
I opened my Etsy shop,
Fairy Shadow
, shortly after my sixteen year old daughter successfully completed treatment for cancer. I needed find another income stream to help pay our medical expenses
and an Etsy shop is very simple to set up. It has been an educational experience. Setting up shop was simple but making it viable is as much work as any other aspect of business.
some of the upcycled fabric Tania uses
2. What inspires you? Is there a special place that you like to go to get inspired? What is it? Any favorite galleries or exhibits that inspire you?


I find inspiration in my garden. Gardens are amazing teachers. One learns that things don't always turn out as planned but not all surprises are unpleasant. I am in awe of the compost heap, that it
takes the wastes of the garden and transforms them into wealth for the soil. This is what I want to accomplish when I work with upcycled textiles, to turn cast-offs into beautiful new things that
enrich my life and make people smile. I want people to see first the beauty of the flowers I make and then be pleasantly surprised that they are make from reclaimed materials.
3. Who is the biggest supporter of your craft/Art & business?

My biggest supporter is my husband. He is ready to help when I need him and is very tolerate of my collection of "material" which as taken over a large portion of our storage space.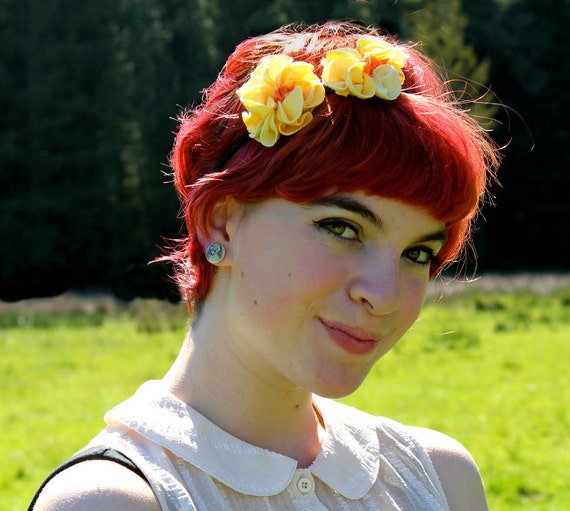 yellow headband, find it here
4. Are you part of a crafting group?

I have been a part of a small co-op in the last year. We have shared booths at a couple of local fairs and we support each other in promoting our businesses. We hosted a children's crafted corner at
regional event as part of an outreach to our community, which was very successful.

5. What do you enjoy making the most?
I love making my flowers. I harvest t-shirts from charity shops, sorting out textiles with rich color and good texture to build blossoms from. It is so pleasing to find just the right color combinations and to have a stunning flowerbed spread across the worktable at the end of the day.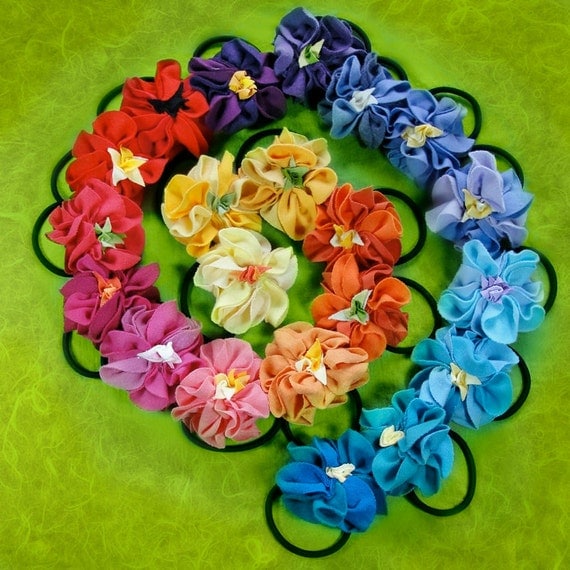 Flower Ponytail Tie, find it here
6. What do you like to do for fun?


I spend time with my husband and two daughters. We enjoy playing at the ocean and trips to San Francisco, 60 miles to the south, to take in a little culture. When last we were there we visited the
Asian Art Museum and had lunch in Japan Town.

7. Do you have a crafty room?

I don't have a crafty room. I have a spot in the attic for my supplies but it is too cold to work there. I tell folks I am a kitchen table crafter and you should never let lack of a designated space stop
you from being a creative person. I enjoy being in the thick of family life and have always wanted my children to see how to get a job done and all the messes that go along with it.

8. Do you have any tips for people who want to start making their hobby into their business?

The best advice I can give is to begin. So many people find reasons not to, building barriers to stop themselves. You don't have to be big all at once. Find a venue that feels manageable and be brave
and begin.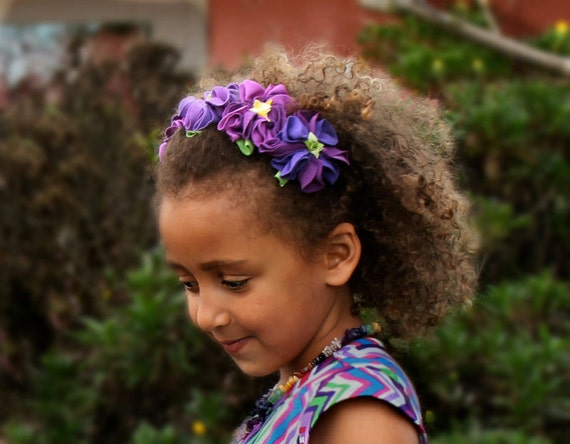 gorgeous girls headband, find it here
Keep in touch with Tania and be updated with latest news from Fairy Shadow by the following these links: