Happy Friday beautiful people! This week we have a new British designer -
Jimmy Dean
- with a new skill that we didn't share before! It's Origami. Jimmy is the owner and the maker of
OrigArti, and he's got a ranged of fabulous accessories. Here's the artist himself!
1. Tell us a little bit about your shop; how did you start? How did you learn your craft? Why did you start? What do you sell?
I formed OrigArti in April 2012 after I decided to host an anime themed birthday for my 27th. I created a block top with 50 origami cranes stitched onto it. It looked awesome and I quickly developed a passion for origami. I have always loved Japanese culture and it seemed like the best idea to create origami fashion accessories as there isn't am lot of it about. I quickly learned how to make different kinds of flowers, animals and shapes which are slowly being developed into unique pieces for people to wear as hair clips, brooches and more. I opened my shop in July 2012, though not much of it has been on sale (I mainly do bespoke items and commissions). I am now working on a new range of higher quality items which I am going to advertise on my Etsy page and would love to make OrigArti my full time job in the future!
how awesome is this jacket!
2. What inspires you? Is there a special place that you like to go to get inspired? What is it? Any favorite galleries or exhibits that inspire you?
I am a massive fan of Japanese culture and anime. I have always loved the unique designs, shapes and colours and to me, the bigger the better! I have a broad imagination and can just get lost on walks out along the beach and through the woods where I get a lot of inspiration. It allows my mind to go wild and I always visualize new ideas, though my ideas seems bigger than the reality (I intend to work on this).

3. Who is the biggest supporter of your craft/Art & business?
I have taken part in a couple of craft fairs (Brunswick Craft Fair, Hove) over the last few months which are organised by the lovely samantha Holland. She has given me the opportunity to get my items out there and I see her as great inspiration because of her passion for what she does. I have met many great artists here and learned a lot from each one. It's really helped carry me forward and to not give up on my interest.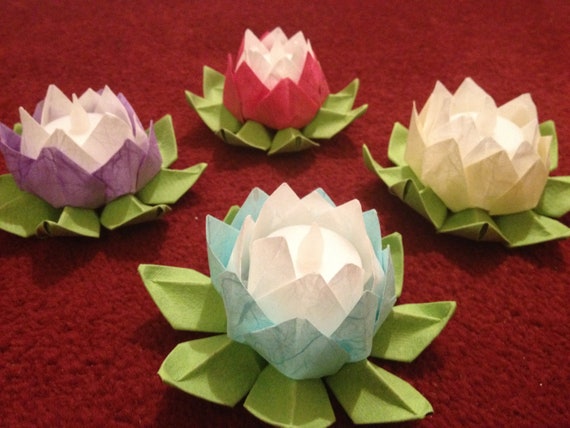 Origami Lotus Flower Lanterns find them here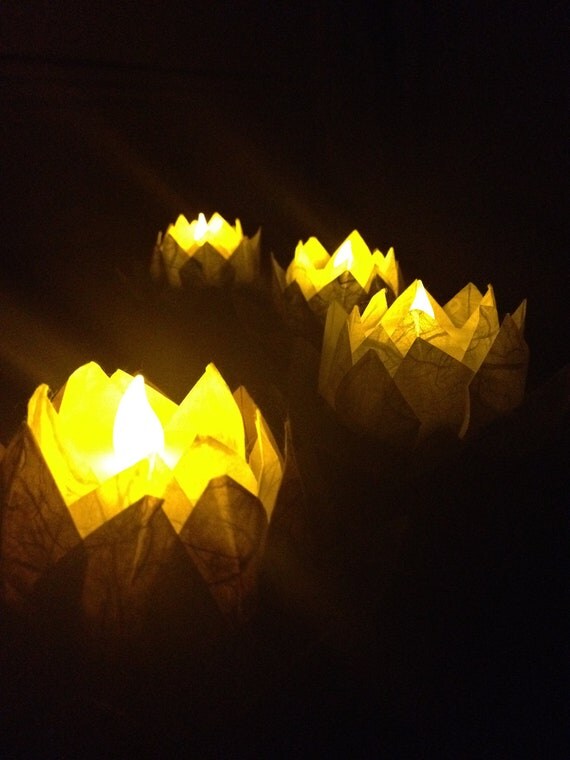 when the above lanterns are lit -beautiful-
4. Are you part of a crafting group? Tell us a little about it
The Brighton Craft Alliance.
The Brighton Craft Alliance serves as an outlet for local craft-makers, artisans and designers in & around Brighton. I have attended a few of their craft fairs and all the artists know each other really well. It's like a small family and I'm honored that I've been welcomed in!


5. What do you enjoy making the most?
I love making flower and butterfly hairclips. These have always proved to be the most popular and I am always developing these ideas to make grander head pieces. I intend to start making fascinators and would to make some bespoke hats for events like Ascot Races. Aside from the fashion accessories, I LOVE making 3d origami dragons, some of whoch are made from over 400 individually hand-folded pieces of paper.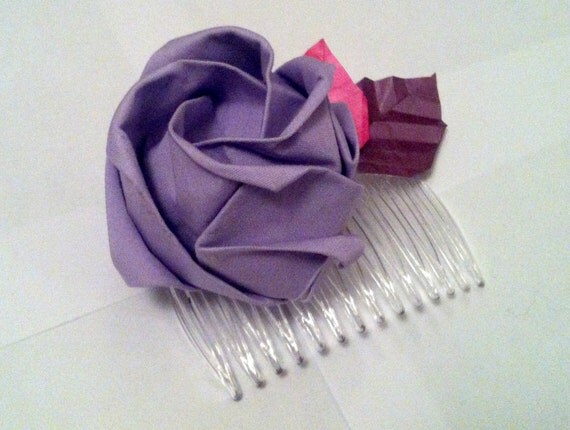 find this gorgeous piece here
6. What do you like to do for fun?
I love my computer games! I'm a big fan of fantasy and enjoy nothing more than a good RPG game like Kingdom Hearts or Final Fantasy. I always do a bit of drawing as well (surreal fantasy art) mainly depicting anything that comes from my imagination (faeries, demons, spirits, mythical creatures).
7. Do you have a crafts room/workshop?
I am in the process of moving house and will be getting an extra room to use as a workshop/ studio/ showroom. I would like to make a life-size 3d origami dragon that goes up the wall and across the ceiling. It needs to be as creative, imaginative and magical as possible so I can always be surrounded by inspiration.
8. Do you have any tips for people who want to start making their hobby into their business?
All I really say is that no matter how small or silly an idea might be, you can suprise yourself with how far an idea can go if you just believe in your own abilities. It takes a lot of work, but the best thing you can do is just keep telling people about it. Get them excited about your work and you'll get excited too. Always take the advice of other crafters and always take an opportunity when it is presented to you. It is a journey and you have to enjoy that journey!
similar butterfly hair clips here
For more awesome pieces, news and updates please checkout the links below: