The first time I spoke to Debbi was on one of the Etsy teams called In Your Face Team, and she was very thoughtful, helpful, and REALLY GOOD at promos! She is the owner and creator of Twisted Pixel Studio. She has a great variety of arts from paintings, photographs to accessories, tags and more. Her talent has no limits. Now over to Debbi! :)
1. Tell us a little bit about your shop; how did you start? How did you learn your craft? Why did you start? What do you sell?
I've been doing handmade since I was a child. I have no formal training and I am self taught in 99% of what I've ventured into.
twistedpixelstudio was created out of a desire to share and sell my art photography and mixed media works. Close friends had been telling me for years that I needed to do this. Since I have been shopping on Etsy for years, it seemed a no brainer to open a shop on Etsy.
2. What inspires you? Is there a special place that you like to go to get inspired? What is it? Any favorite galleries or exhibits that inspire you?
Its funny, but as an artist I don't spend time in galleries. I don't know why that is. I prefer to see art on the street, in people's homes, and businesses. Whenever I visit someone or some place, the first thing I do is look at the decor and focus on the art.
Just about anything can inspire me when it comes to creating mixed media and assemblage. For the photography side, old cemeteries, old architecture, and old cities like New Orleans are my inspiration.
3. Who is the biggest supporter of your craft/Art & business?
I would have to say that my biggest supporter right now is my friends both off and on Etsy. Family members not so much outside of mom and dad who both say they are proud of me and dad especially asks about the day to day effort to run my store.
4. Are you part of a crafting group?
No, not part of a crafting group. I work 40+ hours a week at my day job then come home to work on my store and create. There is little time for much of anything else. I hope that when I retire I will have more time. Retirement is not that far in the future!
5. What do you enjoy making the most?
There is no single thing I enjoy doing the most. I love altered art, mixed media and assemblage but I also do traditional art as well. My photography gives me a lot of joy because I never know when I take a picture what it will become. I do not stage my photos and I do not plan most of them. The only thing I consistently do is take them early in the mornings after sunrise up to around 10 am.
6. Do you craft in public? Where do you do it?
Well I guess taking pictures in public is the same as crafting in public!
7. What do you like to do for fun?
Going to New Orleans tops the list. My art is also my fun! I also love to read and do so for at least two hours each night before sleeping. I dream of visiting the Pere Lachaise Cemetery in France and Highgate Cemetery in England.
8. Do you have a crafty room?
I have a crafty room. Its called my den. And no you cannot see it. Because its a huge mess all of the time and I am constantly moving piles of this around to find piles of that. Who has time to clean or organize? Seeing it would only make you wonder how in the world I get anything done.
9. Where do you get your supplies; online, local shops, vintage stores, from friends, recycled materials or others? How easy/hard is it to get supplies & why? Are craft shops missing something?
Most of my supplies I get online through Etsy, Amazon, and sometimes Ebay. I love love love vintage and several times a year will head out with a friend to troll the shops both local and in the surrounding counties. I enjoy using vintage components in my work. I find most craft stores to be fairly generic and uninspiring. Michaels, JoAnne's, and those types are good for getting basic materials but for me, most of the time when I go to get something, they rarely have it or I settle on something if I need to get something done and can't wait. So I order online.
10. Do you participate in craft fairs or do wholesale? Is there enough support for these types of things?
I have never done a craft fair or done wholesale. Wholesale would not really work for what I do I don't think. Most of my work outside of photography is one of a kind or extremely limited. Craft fairs would be difficult. I am almost 100% deaf. Hearing aids are not good in noisy environments and a craft fair can be noisy. Unless I had someone to assist me with the customer relations side, I would not be able to do it. Buyers get turned off by "Huh? Speak louder! You are mumbling at the deaf one!"
11. How do you find selling offline? How is it in comparison with selling online?
I used to have people ask me to make them something and to pay me but I usually just ended up giving it away to them. I know. I hear you screaming. Believe me, I get it. Its never been about the money though. Its about the sharing of my love for what I do. My dna is in each and every piece of art that I create. A part of my soul goes with each and every piece I give away. That someone wanted something I made means the world to me because it means I have created something that is valued by another human being.
I have hopes that my store will be successful enough that I can feel comfortable retiring from my/any day job and spend more time on doing what I love the most. If not, it won't stop me from continuing to create. My heirs will have an adventure and they will have a ton of fun digging through my stuff.
12. Do you have any tips for people who want to start making their hobby into their business?
Tips. That's a whole big ball of wax. What works for one might not work for another. I think the biggest part of selling is that you have to put yourself out there. You can't just throw a few pictures on a website and become an instant success. You have to be willing to use social media, hand out business cards, and talk about what you do.
You have to schedule yourself to fit it all in and part of that scheduling needs to be focused on promoting yourself. If you are on Etsy you can join a team that helps you do that. But you have to be willing to return the favor and promote others too.
Selling online is not easy. Its not like a regular store that you can walk into, pick up an object and see it first hand. If you are selling online you have to be able to take good pictures of what you sell and then you have to be able to describe that item so that the viewer will have a good sense of what it is you are selling. That means you have to write well and if you don't write well, you better find somebody to help you with that aspect. I think you can scrape by with a less than stellar picture of your item but if you don't have a good handle on the description, verbiage, grammar, punctuation, etc., people are not going to buy. I see so many sellers that have this issue and its sad. As a shop owner, you have to be willing to go as far as you can and then some to sell online. You have to be flexible, to be willing to try new things and new ways of getting yourself out there so you can sell. Oh, and don't undervalue yourself. Price your items accordingly.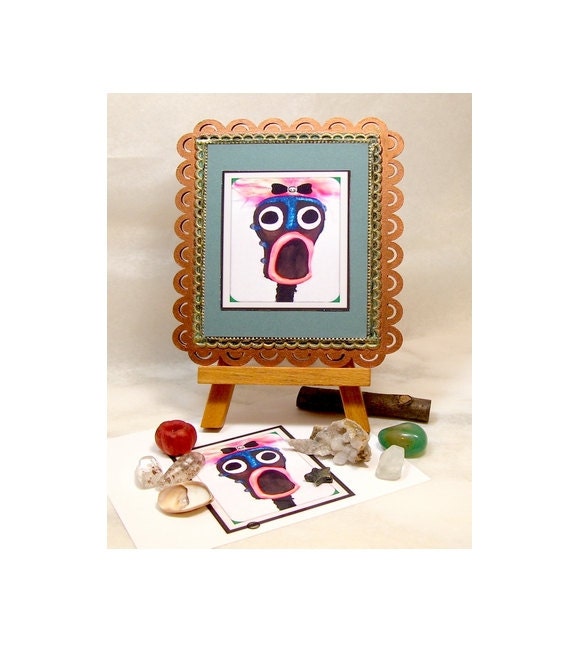 LIMITED EDITION, find it here
WOW,, this really inspired me, and put me in
crafting mood!
Make sure you follow Debbi and her shop; Twisted Pixel Studio for updates and inspiration! :)