Happy Friday all! I hope you are enjoying the sunshine! it's way too hot where I am right now, but I am not complaining hehe, the winter this year was just way too long. This week I will be featuring a crafty friend based in Manchester, UK. She has some wonderful pieces, and she's only getting started her creativity has no limit, and she's right on trend! Say hello to Boz!
1. Tell us a little bit about your shop; how did you start? How did you learn your craft? Why did you start? What do you sell?
My shop first opened in July 2012, but the story starts way before that. I studied fine art at college and applied art at university and the plan was always to be self employed. Unfortunately, real life got in the way so it took me a couple more years to get up the courage to start selling my creations. I sell jewellery, note books, pocket mirrors and temporary tattoos all based on my original illustrations and papercuts. The main focus behind my work is making something cute and quirky, something that is a bit different to what everyone else is wearing or using, but that is still beautiful. I like to wear what makes me happy, whether its in trend or not. So I design what makes me happy too.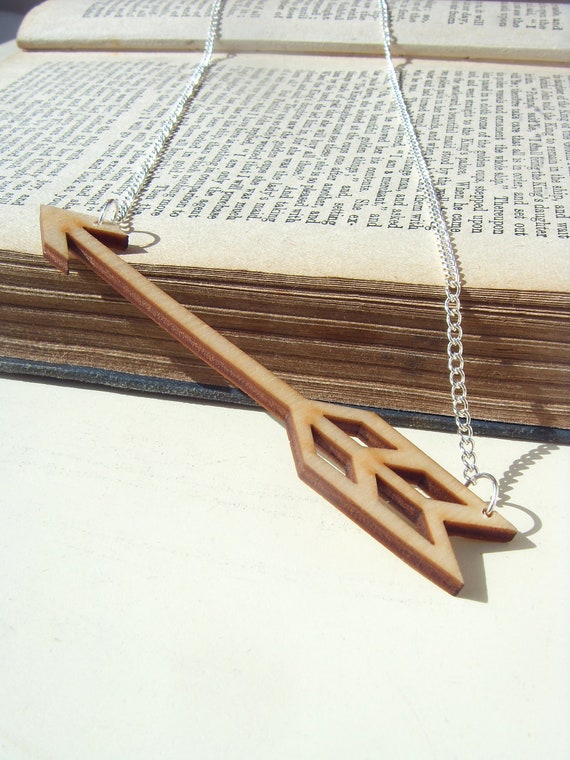 Find this lovely necklace here
2. What inspires you? Is there a special place that you like to go to get inspired? What is it? Any favorite galleries or exhibits that inspire you?
As I mentioned, I started out in Fine Art so I'm a big fan of Alphonse Mucha's work. I saw a piece of his in the V&A a few years ago, it was amazing. One of my uni teachers is a big inspiration, Claire A Baker
. Her work is brilliant because she starts by looking at an object, then she makes a piece of art based on it, and then from the art comes little products like brooches. I'm not so much inspired by a particular place, but I like to keep my eyes open when I'm out and about. I like to get inspired by materials as well, nothing better than a brand new pad of paper.
3. Who is the biggest supporter of your craft/Art & business?
I'd have to say my sister. She's always commenting on my facebook, sharing my links, and asking me all about what I'm up to. My partner, Joey, is also very supportive. He let me turn our spare room into a studio and he reads through anything that I write for the shop, or my blog if I ask him to.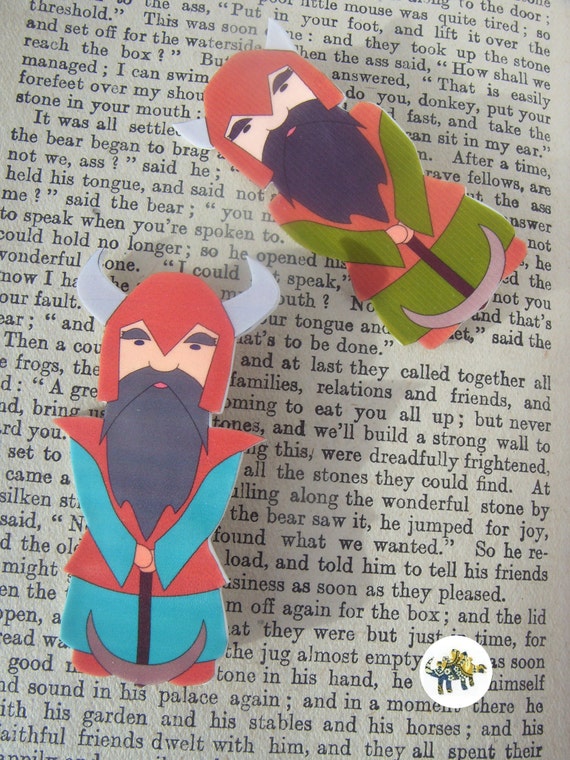 Find these brooches here
4. Are you part of a crafting group?

I do try to participate in online forums but I find it difficult to join in with groups that would meet up face to face. Firstly, I don't have my own transport, and secondly I spend a lot of my spare time creating, so it's hard to fit in around my busy lifestyle.
5. What do you enjoy making the most?
Something new! I absolutely love designing new products, learning new techniques and the thrill of making something complete. Of the products I make on a regular basis my favorite would be the shrink plastic earrings and brooches. When half the plastic is shrunk and the rest is still getting that way it makes the illustrations look pretty funny and distorted. Imagine any of my animal earrings but like they're in one of those crazy mirrors at a carnival.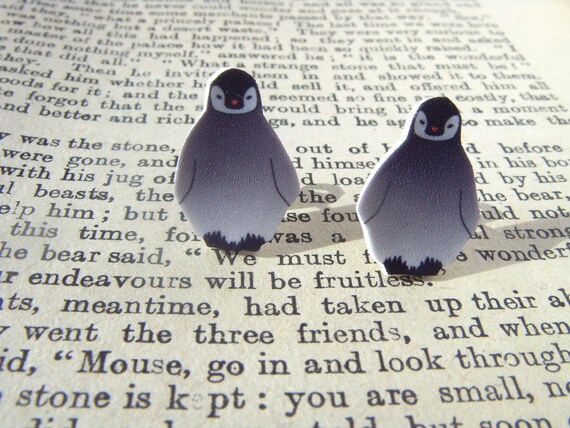 find these super cute earrings here

6. Do you craft in public? Where do you do it?
I did used to knit in public, in college. Recently, I tend only to draw in public. Carrying around a heat gun, a pair of scissors, a drill, super glue, varnish etc is really heavy! So I'll leave it mostly in the studio.

7. What do you like to do for fun?
Here's a crazy fact about me only my friends really know. In my spare time I do fancy dress a lot. Like, A LOT.
8. Do you have a crafty room?
Yes I do. I turned the spare room into a studio. (There's a picture of my desk and a picture of one of the inspiration walls.) If I wasn't renting I'd paint all the walls white, and install way more shelves.
9. Where do you get your supplies; online, local shops, vintage stores, from friends, recycled materials or others? How easy/hard is it to get supplies & why? Are craft shops missing something?
I get a lot of my supplies online. It has been difficult to find some of the materials but I find the more determined I am to make something the more searching I am willing to put in to find the supplier. Living in the countryside is wonderful, but not being able to drive means I prefer to get things delivered to me.
10. Do you participate in craft fairs or do wholesales? Is there enough support for these types of things?
I've done an occasional fair. It was a brilliant experience and I hope to do more soon. I don't think I ever looked for support. I think the hardest part is finding the right place to display your own products. What's right for a vintage dress seller might not be good for a clock maker or a baker. As with finding materials, I think it just comes down to spending a bit more of your time searching for the right place.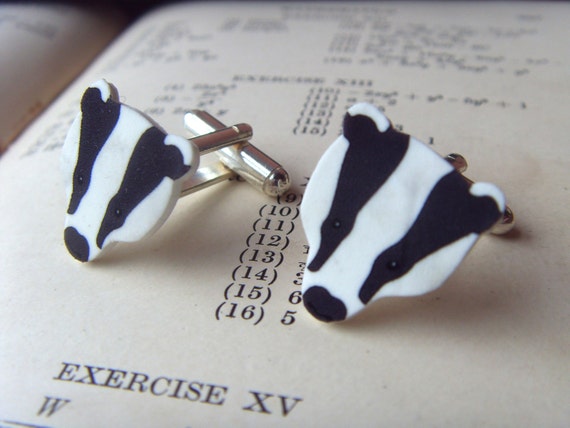 Find these cool cufflinks here
11. How do you find selling offline? How is it in comparison with selling online?
Selling offline feels a lot easier. Mostly, I feel, because there was a captive audience there already. With selling online you have to put a lot of time and effort into getting your links out there but with a craft fair, you do have to spend some time promoting it, but once the people are there they can see and feel your work much better than through the photos you have online.
12. Do you have any tips for people who want to start making their hobby into their business?
I believe that there should be a strong line between hobbies and businesses. A business should sell professional, high quality work and to sell your work as a business you need to think of it as a business. I think if you still consider your business a hobby then it will show and other people wont take you seriously. I think that was one big step that I took, and now that I refer to my business as a business my friends and family have also stopped referring to it as though its just something on the side. Wow, I think I just used the word business way too many times!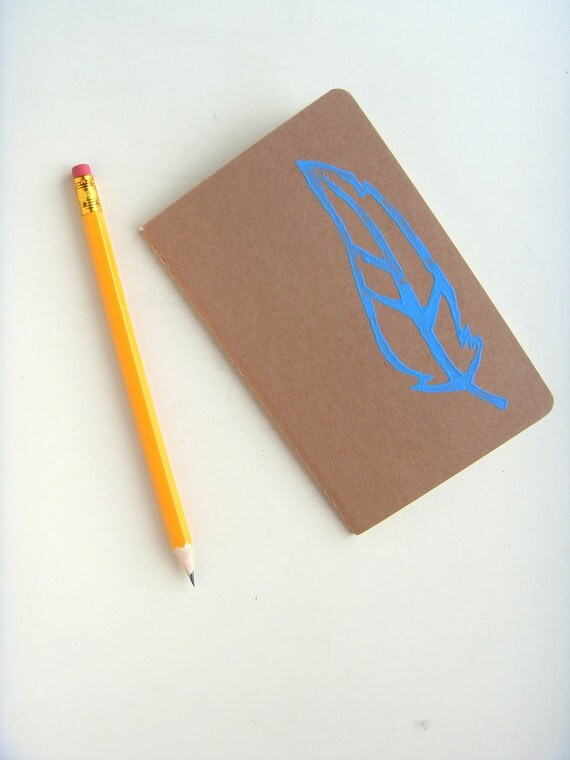 find this notebook here
Thanks for having me.
Boz
.
Stay in touch with Boz, and her work through the links below!

Etsy Shop
Twitter
Instagram
Facebook